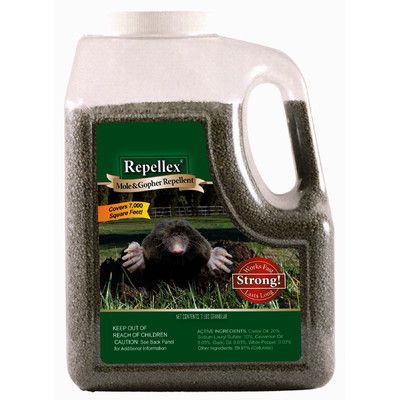 Those dreaded borrowing animals such as voles, moles, and gophers can cause major damage to your property. These pests can be difficult to get rid of and if not controlled properly they can return. So most people want to learn how to get rid of gophers naturally and safely without chemicals or pesticides.
There are many methods that have been used for gopher control. Some people try trapping them while others try to flood them out. This does not work because not only do gophers build tunnels they also have burrows. They build their burrows higher than their tunnels. So if you are trying to run water through they will just sit in their borough and watch the water run downstream through their tunnel. This is not very effective.
Poison of course is another method that uses harmful pesticides and chemicals. Poison does work but leaves harmful residue on plants and the soil. It can also be very harmful to children. A very effective and safe way to go is to use a repellent product that contains no harmful pesticides or chemicals and is made from plant based materials.
These products especially in their granular forms do an excellent job of controlling gophers as well as moles. Unlike moles that have very visible tunnels and eat earthworms and grubs, gophers eat plants and it is rare that you see their tunnels. You will see their gopher mounds however that have a hole on the side and are fan shaped.
If you are using natural granule products they are easy to apply. You can use a spreader to disperse the granules over the parts of the yard that have been particularly damaged. As the granules begin to dissolve slowly with water they release a scent. With their ingredients of castor oil, garlic, cinnamon, and white pepper, the smell can be very effective in sending the gophers away.
Be sure you treat your garden beds and your lawn keeping in mind that you want to direct the gophers to the nearest exit. You can start by treating a third of the area. A few days later treat the second third and then a few days after that the final section of your property. The key is to be sure that you get enough coverage throughout the yard.
You can achieve this by broadcasting the granules as lightly and evenly as possible by hand or you can use a hand held spreader that is set at its lowest dispersion rate. A conventional broadcast spreader can be used as well.
It can be an easy solution if you want to learn how to get rid of gophers. Having the right plant based natural product that is safe and free from chemicals and pesticides is all you need to send your gophers scurrying.