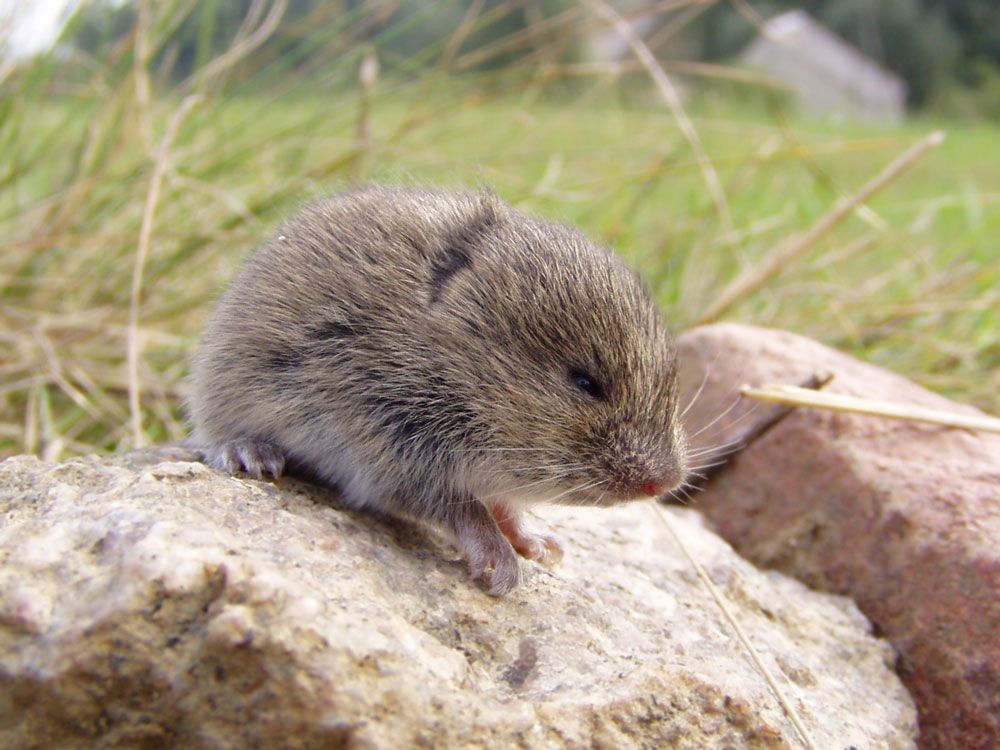 Voles are so cute. They look like little mice with small ears and twitching whiskers. However, the damage they do can be devastating. They can make quick work of your vegetable garden, leaving you with nothing for all your hard work. They are tiny eating machines. They sneak into your strawberry beds and stuff themselves! They build underground burrows so you never actually see them, only the havoc they wreak. Voles are insidious little creatures. There are telltale signs that you have been invaded if you know what to look for. Many inexplicable holes in your yard or garden is one indication. Furrows in your flower bed is another.
There are chemicals on the market that you can spray on or around your plants or worse pour into the ground to kill the little fellows. There are also little miniature bombs available to smoke them out. The theory is that they will object to the smoke and move away permanently. Do they work? I couldn't tell you. Are they environmentally safe? The words chemical and bomb would indicate probably not.
The most humane way to get rid of voles is to convince them that they don't want to live here anymore. I'm pretty sure that a sit down conference with the leader of the vole community is not in your future. With that said, the most effective and environmentally safe solution is Repellex.
Repellex Mole and Gopher Repellant also gets rid of voles. It is safe and effective while at the same time, will not harm the animal you are trying to deter. Repellex is a unique method of pest control in that it utilizes natural, plant-based formulas to combat a variety of pests. The formula to get rid of voles is available in granular, liquid or systemic tablets. The tablets deliver a hot pepper concentrate directly to the soil and roots of plants. This does not affect the plants other than making them unpleasant tasting. As a result, the vole has a decidedly unpleasant dining experience and finds it best to move on to a tastier yard or garden. The liquid formula is conveniently applied with your hose end sprayer for coverage of large areas. The granular product is spread on the ground, watered in and you are done.