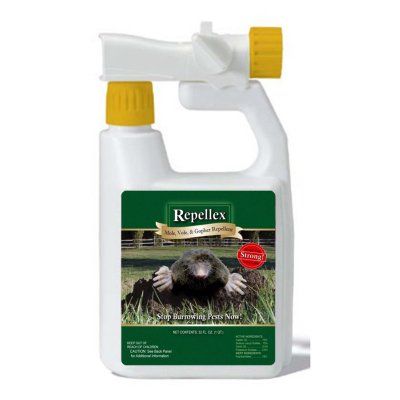 Homeowners make the quest to get rid of moles a priority. Burrowing moles do more than just damage the appearance of lawns and landscape beds. The burrowing can uproot and kill the expensive plants, causing hundreds of dollars in damage.
Moles, however, are difficult to remove, and many of the methods suggested are repulsive and cruel. Most people prefer to use humane methods that are safe for pets and children.
Repellex repellents are easy to use and are made of all natural, plant-based materials with no harmful chemicals or poisons.
Repellex Mole and Gopher 32 oz. Ready to Spray, Repellex Mole and Gopher 1 Gallon Concentrate, Repellex Mole and Gopher 7 lb. Granular, and Repellex 24 lb. Granular Pail contain castor oil, cinnamon, garlic, and white pepper. Repellex Mole and Gopher 32 oz Ready to Spray attaches directly to a garden hose while Repellex Mole and Gopher 1 Gallon Concentrate is applied to lawns and landscape beds, but not edible plants, through a garden sprayer or lawn sprinkler. Broadcast Repellex's granular products over lawns and landscape beds, but, again, not edible plants, with a lawn spreader. Water the lawn and landscape beds after spreading, or allow rain or ground moisture to activate the treatment. These products last 4 to 6 weeks and can be applied whenever the ground is not frozen. It is best to apply them at the first sign of moles. Because moles remain active all year and simply burrow deeper in the winter, apply a treatment in late fall before the ground freezes. These products are absorbed by the soil and create a protective coating around the roots of plants and other underground food sources. With the reduction in available food, moles leave. The departure may be accompanied by an increase in activity during the first seven days of treatment.
Repellex Systemic Tablets protect trees, shrubs, foliage plants, and flowers, but, once more, they are not for use with edible plants. The tablets contain capsaicin, the compound that makes hot peppers hot. The plants absorb the capsaicin and within 1 week to 1 month, they take on that hot pepper heat, repelling moles. The treatment lasts for up to 1 year. When planting, place the tablets 2 to 3 inches from the root crown and push them 1 to 3 inches below the surface. Use one tablet for every foot of plant height and width. Place the tablets around established plants whenever new growth appears, but not when the plant is dormant or the ground is frozen or waterlogged. Depending on the size of the plant, absorption may take from 1 week to 1 month.
Get rid of moles safely and easily with Repellex's all natural repellants.