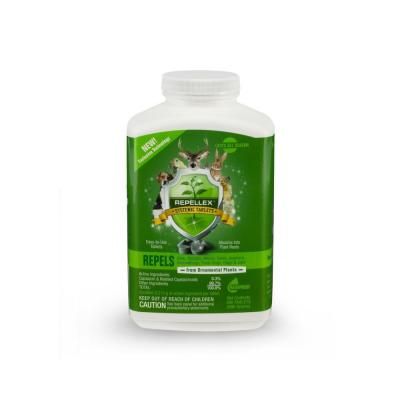 Gardeners everywhere love transforming a plot of soil into an expanse of colorful foliage and flowers. Wildlife attracted to the garden serve to heighten the planter's enjoyment. But some of nature's inhabitants, like white-tailed deer, can destroy a gardener's hard work in short order.
The population of white-tailed deer in the United States is approximately 30 million, and their range extends well beyond woodland areas into the suburbs. Many common plants appeal to deer. Once they find a good source of food in your garden, they will likely come back again and again to forage for more. Just a few visits are enough to decimate your lovely plot. Unfortunately, fences rarely help, as deer are excellent jumpers, determined to find a good meal.
Deer must be dissuaded from consuming the plants you have so lovingly tended. Repellex is the answer to how to keep deer out of garden. Repellex deer deterrents are formulated with natural ingredients that are completely safe for animals and the environment. Whether you choose to use systemic tablets, ready-to-use sprays or spray concentrate, you will find success in protecting your plants and flowers.
Repellex tablets contain a hot pepper concentrate that is delivered to the roots of your plants and absorbed at the molecular level. The result is a bad taste distributed evenly throughout the plant. When deer take a bite, they learn your plants aren't edible and they stay away.
The tablets are easy to use. Simply place them in the soil around your plants and water. The effects will not wash off and one treatment will last through the entire growing season.
Repellex spray contains dried blood meal that releases a predator-like scent as a natural repellent to grazing deer. In addition, the spray contains garlic and essential oils, two flavors deer find offensive. So deer are doubly-deterred through their senses of smell and of taste.
Repellex spray can be purchased ready-to-use or as a concentrate. Application is simple. Spray evenly on your plants and the natural adhesives in the product will cause it to stick to leaves and woody surfaces, forming a protective coat that lasts approximately three months.
Repellex sprays are effective when used independently. However, they also complement the tablets by providing a second barrier during times when the systemic tablets are not as effective—specifically during the up-take stage and when the plant is dormant.
The problem of how to keep deer out of garden is finally solved. Use Repellex tablets and sprays, and white-tailed deer will seek tastier morsels elsewhere.